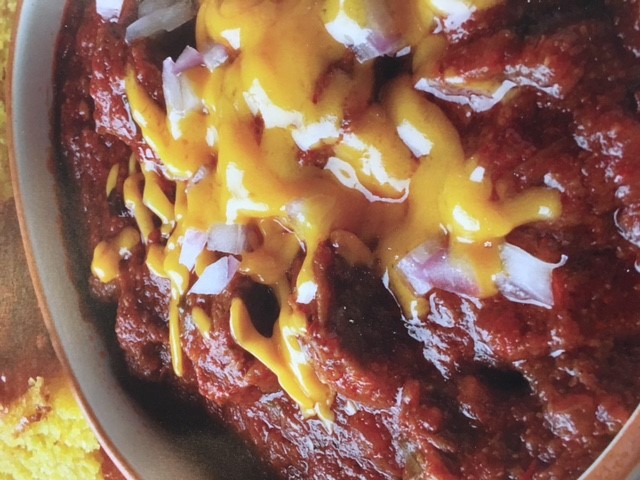 There's something about January that screams CHILI.  I have made many chili's in my day-some I would like to take a bath in and some just so-so.  Here we like heat, so I always make my chili spicy and it varies with each batch, since I don't really measure anything for chili and go by eye and taste.  I will never forget the chili I made that was so hot, no one could eat it (so much for measuring by eye).  And it was a BIG batch.  I froze it and brought it out a few weeks later…and it was even hotter!  The only solution was to make another pot nearly the same size, leaving out the jalapenos and combining the two batches and it finally came down to edible.  We had enough chili for months.
I actually look on chili as a quasi-diet food.  Except for the meat-and I use ½ or all turkey-there is nothing very calorific in it and all the rest is healthy-onions, peppers, tomatoes, etc.  And it's hardy and fills you up. It's what people put on top that kills you-cheese, sour cream, bacon, etc.  I know, I know, it's the toppings that MAKE the chili.  I'll concede that but a little bit of cheese goes a long way.  And OK, I'll confess, what makes chili a great meal for me is the cornbread that I always make with it or a basket of tortilla chips.  I'm a crunch person.
There's was a joint-read biker bar-in Syracuse, NY where I went to school called Dinosaur Bar-b-que.  There I had my first "take a bath in it chili".  Its food is so good that they now have 9 locations in the North East.  But before they became famous (and I became a chef), I used to eat there often in the 80's.  This is their recipe.  John knows what "low and slo" can do for food.
I know "the best" chili is a matter of taste, but I hope you like this sweet and smoky rendition. Leave out the jalapenos if you like (or double them!), use all ground turkey, cubed chicken, venison or whatever you want for the protein.  The seasonings are so good, most people will never know what you used.
Dinosaur Bar-B-Que Chili
Ingredients:
2 lbs. ground turkey or chicken
2 lbs. beef sirloin or stew meat, diced into ½ " cubes
Kosher salt
Ground black pepper
1 TBL. vegetable oil
¼ lb. bacon, diced
3 C. chopped onion
2 C. chopped green pepper
2 medium jalapeno peppers, seeded and minced(use gloves!)
2 heaping TBL.(Yes, TABLESPOONS) chopped garlic
4 C. beef broth
1 28oz. can crushed tomatoes
2 bay leaves
1 cinnamon stick
2 TBL. ground ancho chile
1 TBL. ground pasilla chile
2 tsp ground cumin
1 ½ TBL. brown sugar
1 16 oz. can of red kidney beans
1 TBL. dried oregano
Juice of ½ lime
2 TBL. shopped fresh cilantro
Directions:
Trim away the fat on the meat and cut into 1/2" cubes.  Season whatever meat you are using with 1 TBL. salt and 1 TBL. pepper.  Set aside.
Heat the oil in a large heavy pot and add the bacon.  Cook until crisp.
Scoop out the bacon and put it aside for garnish (or eat it now).
Add the meat in batches and brown lightly, stirring (about 3-5 minutes).  As each batch is done, scoop it into a bowl.  Browning the meat this way will ensure that it browns and doesn't steam-too much volume will not let the meat take on a nice color.
When all the meat is done browning and is in a bowl, add the onions, peppers and jalapenos to the pot and stir, scraping all the brown bits on the bottom and sides of the pot.  Cook until soft.
Add the garlic and cook, stirring for about 1 minute (be careful not to burn it-yuck). And add the meat and juices back into the pot.
Add the broth, bay leaves, cinnamon sticks, chilies, cumin and brown sugar.  Stir.
Cover the pot and bring it to a boil.  Crack the lid and turn down the heat to low, making sure the chili is still simmering with the lid slightly off.
Cook for 2 hours or so until the meat is tender but not falling completely apart, add the kidney beans during the last ½ hour of cooking.
Add the oregano, lime juice and cilantro.
Fish out the cinnamon stick and the bay leaves and discard.
Taste for seasoning and serve.
Thank you, John at Dinosaur, for this little bit of heaven.