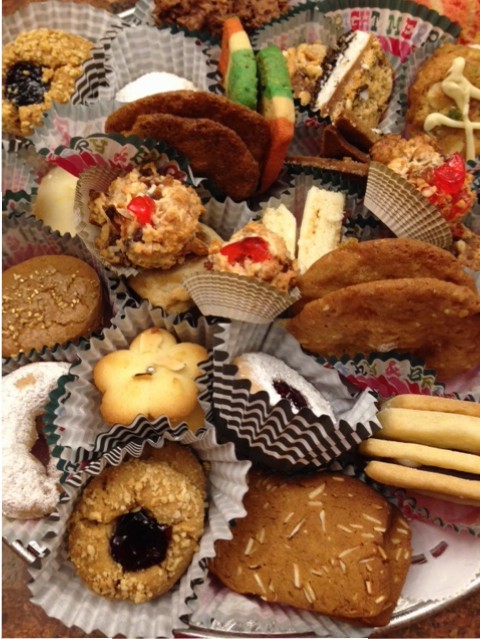 In my world nothing says "I'm ready for the holidays" like finishing my Holiday Cookie baking.  Those that follow me know that I bake like a demon in the weeks before the holidays to produce a large variety of cookies to give to friends and family.  Last year was my personal best at 21 kinds-the stars must have aligned then because this year all I could manage was 18…so disappointed in myself! LOL.  The way I manage this and continue to work, gift shop, wrap and do other mundane chores at this time of year is that I choose which cookies I make carefully-no soft, chewy, moisture rich cookies that don't play well with the crispy cookies on the tray, no exceedingly delicate cookies that break easily, no cookies that get stale in a day or two.  I make the doughs or base doughs in the 2-3 weeks after Thanksgiving and freeze them, then the Wednesday of the last full weekend before Christmas, put the doughs in the refrigerator to defrost. Starting with the bar cookies and any other cookies whos' dough I can't freeze, I begin baking on Friday night and bake straight though the weekend.  Monday night I pack the gift trays in a marathon(about 5 hours)..and I'm ready. My husband stays out of my way during these 4 days and like a coach, brings me various quick take-out meals.  Thanks Honey!
Some of the results:
A Sweet Holiday to ALL!!!