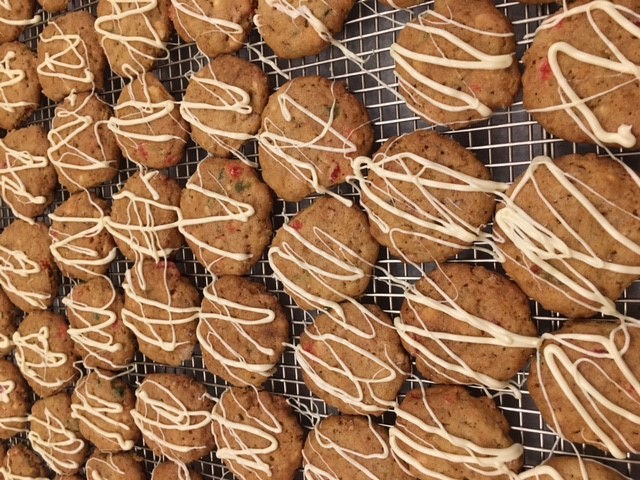 Yeah, I make fun of those fruit bricks aka "fruitcake" too.  My mother used to make a homemade version, arguably better than the stuff that ends up on Marshalls' shelves around February, but still a brick.  Frankly, I don't know anyone who actually eats fruitcake or eats anything with the lurid red and green "candied cherries" that were part of every pantry shelf in the 1950's around holiday time.  I think they were even put in Jello molds for Christmas…guess it passed for a serving of fruit in those days.  In any case I can almost guarantee that there are ½ containers of little red and green gems sitting in many a pantry.  Bought to delicately be cut in slivers and top a little cookie and never used again.  Until now.  Here is a recipe for a cookie that is rather addictive, chewy and crunchy, looks so festive and holiday-ish and puts the candied cherry to excellent use.
Behold!  The Holiday Fruit Drop
Holiday Fruit Drops
Ingredients:
2 ½ C. all purpose flour
1 tsp. baking soda
½ tsp. salt
1 C. butter (2 sticks), softened
¾ C. granulated sugar
½ C. dark brown sugar
1 tsp. vanilla extract
3 large eggs
2 C. Rice Crispies
1 C. walnuts, toasted and coarsely chopped
½ C. red candies cherries
½ C. green candied cherries
1 C. white chocolate chips
2 TBL. granulated sugar
4 oz. white chocolate (in bar form)
Directions:
Preheat the oven to 350°.
Grease a large cookie sheet or line with parchment.
In a bowl combine the flour, baking soda and salt.
In a mixing bowl with the mixer at medium speed, beat the butter and sugars until creamy, scraping down the bowl occasionally with a rubber spatula.
Beat in the vanilla, then the eggs, one at a time.
At low speed, gradually add the flour just until mixed.  Scrape down the bowl.
At low speed or with a wooden spoon, add the cereal, walnuts, cherries and chocolate chips.
Drop by rounded teaspoons (or use a melon baller), about 1 inch apart onto the prepared sheets.
Put the 2 TBL. granulated sugar in a small bowl.  Dip a flat bottomed glass into the sugar and lightly press on each cookie to flatten slightly.
Bake until golden about 10 minutes.  Transfer to a wire rack to cool completely.
Place the block white chocolate in a microwave safe bowl and melt in the microwave.  Stir until smooth. Note: I have indicated block white chocolate here because it is easier to melt for this purpose.  Chips contain an additive designed to help them keep their shape and are therefore much harder to melt without scorching. You can use them if you can melt them.
Put the melted chocolate in a small zip-lock bag and snip of a very small corner…voila!  Instant small disposable piping bag.  Drizzle the cookies with the melted chocolate.  When chocolate is set, store, airtight, for 1 week.  Or freeze for up to 3 months.
MUCH better than the dreaded brick!