Christmas Eve is always a special meal in our house. When the kids were young, it was a group input menu-mostly driven by the younger group members and often consisted of hot dogs, simple pasta or mac and cheese. All of it served family style and eaten in front of the fire, not at the table(a big departure), followed by a couple of children's holiday books and always "T'was The Night Before Christmas". Sometimes the reindeer got hot dogs instead of carrots, but it was ALWAYS eaten by morning.
We went through a brief 7 fishes phase, but my insistence on tradition did not win approval. One day, my sons suggested pasta for Christmas Eve and it has evolved into seven-ish pastas-one more involved than the next. Everyone-sons, wives and finances come to the house either the day before Christmas Eve or as early as possible on Christmas Eve day to help make the pasta. Both sons make their own pasta at home, so they hit the ground running. The less experienced among us help with other things, but everyone's involved and it is probably my most favorite day of the year. The new finance is a bit overwhelmed, but between Thanksgiving and Christmas Eve, I think she is getting that when we Kieffers cook…we COOK.
This year, we paid homage to Mark Vetri and cooked 3 of the pastas from his new book "Mastering Pasta", in addition to the sacred Tortellini in Brodo which is a must this night and Uova da Ravioli, which means ravioli with egg inside. I learn this technique on a recent trip to Italy and was dying to experiment with it.
Here was our menu and pictorial tour:
Charcuterie and Cheese Board sourced from DiBrunos
Tortellini in Brodo
Mint Pappardelle with Morels
Fig and Onion Caramelle with Gorgonzola Dolce Fonduta
Uova da Ravioli
Lemon Fettuccine with Scallops
Butterscotch Rum Cake
Homemade Vanilla Ice Cream with Hot Fudge and Salted Peanuts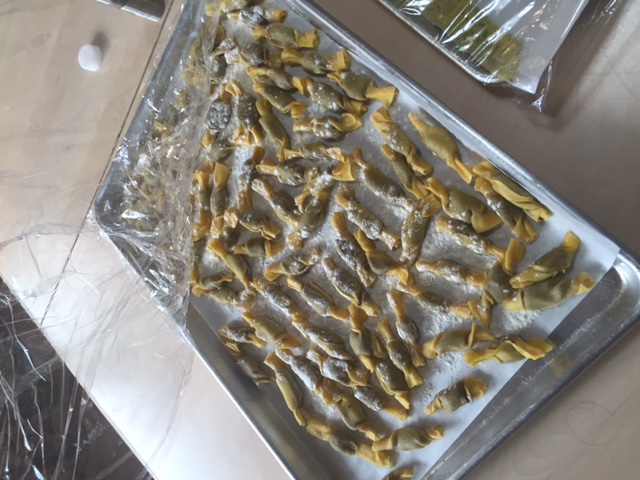 We were flagging by the end, so the fettuccine received short shrift, but everyone had a favorite in the line-up. Personally, my favorite part(after the family bonding) was my resolve to not think about carbs for this night.
Have a Happy New Year and a personally successful 2016 from all of us at Kieffers!!!